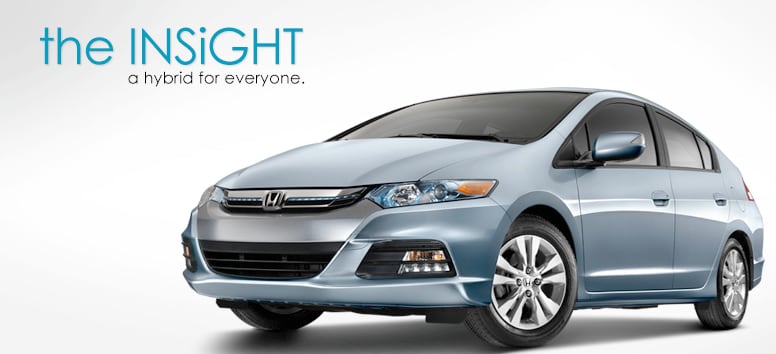 The Honda Insight Hybrid at Castle Honda: Your Chicago Area Honda Dealer
Family Ties
The Insight shares a family resemblance with the sleek and sophisticated FCX Clarity fuel cell vehicle. The front of the car is strong and lean with eye-catching projector-beam headlights. The taller rear helps this 5-door hybrid slip easily through the air, and unique LED brake lights complete the look.
Space, Man
The Insight was designed with a low center of gravity and a 5-passenger cabin. Five-door access helps meet the needs of an active lifestyle. The use of smaller internal components allows for more cabin and cargo space, making the Insight family-friendly and versatile. And the Insight was designed and built from the ground up to be what it is: a hybrid.
Hybrid Heart
The centerpiece of the Honda Insight is the latest Integrated Motor Assist IMA® system. This next-generation hybrid system benefits from everything we have learned as the first automaker to bring a hybrid to the market in the U.S., the original Insight. Compared to the system in the Civic Hybrid, the battery pack was improved, resulting in cost savings and reduced weight. Its location also allows for greater cabin space. The Insight features a highly efficient, 1.3-liter, 8-valve, i-VTEC® 4-cylinder engine and DC-brushless electric motor, and it's equipped with a continuously variable transmission (CVT).
More is More
The whole idea behind the design of the Insight was to make hybrid technology accessible to a greater number of people. And more hybrids replacing less efficient conventional gas engine vehicles out on the road can only improve things for the environment. To that end, the Insight was designed for excellent fuel economy, of course, but the goal was also practicality and affordability.

Efficiency Booster
The unique Eco Assist™ system enables increased efficiency for improved performance through two elements, an ECON button that controls certain functions of the car, and a feedback system that lets you monitor your driving performance. Eco Scoring at the conclusion of the drive provides drivers with even more of an incentive to drive green.
Insight Safety
The advanced safety features you'd expect to find in a Honda are right there in the Insight?from airbags to Advanced Compatibility Engineering™ (ACE™) body structure. ACE™ body structure increases Insight passenger protection in frontal collisions, and makes it more crash compatible with vehicles of differing ride heights. The anti-lock braking system (ABS) uses a special modulator to pulse the brakes to help prevent wheel lockup, helping the driver retain steering control when braking hard. And the Electronic Brake Distribution system (EBD) balances the braking forces at each wheel according to how the car is dynamically loaded.
Browse our greater Chicago new Honda inventory to view our full selection of Honda vehicles. Contact Castle Honda, of greater Chicago, today to test drive the 2012 Honda Insight.